6 Things You Don't Know About Moses Krell
03.11.2015
---
Moses Krell wakes up excited to come to work at Salon Red. Why? He loves to make people feel beautiful. At 22 years old, Moses discovered he could earn a living, work around beautiful women all day, and satisfy his creative passions all while working with hair. He started his career with Salon Red in 2002, apprenticing under Jessica Soler, Salon Red's owner.  Prior to that he entertained dreams of being a rock star and he performed with a band that played all over the southeast. Moses feels the two very different career paths have a lot of similarities, "When you're up on stage performing and singing to a crowd of strangers you have to connect with them. It's a lot like having a new client in your chair, you must build that same type of connection so they will trust you."  We at Salon Red are delighted he chose to follow his passion to "perform," and Moses rocks out hair styles daily at Salon Red Brookhaven.
1. What gets you excited about hair/beauty? Where do you find your inspiration?
What excites me most is the impact that a great haircut or color can make in a persons life. I get the opportunity to make people look and feel beautiful every day, it's truly an amazing feeling.
2. Who is your style icon?
I've always been a huge fan of Iggy pop. He's always been ahead of his time, daring and decadent. He's never let the mainstream influence his vision. I'm also a big fan of Adam Levine too, he's pretty sexy for a dude.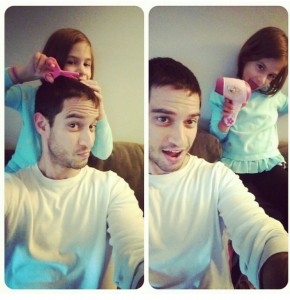 3. Do you have a style/technique you would consider your signature?
I am constantly growing and evolving as a stylist, so it would be hard to say I have a particular style or signature. It could have changed by the time you read this. If you made me pick a favorite though, I suppose I enjoy cutting more than coloring; but would hate to have to pick between doing one over the other.
4. If you could give one piece of advice to your clients what would it be?
Always use a heat protectant when drying or flat ironing your hair. Always means always, not sometimes. For those that say they hate the feel of products, Bumble and Bumble Invisible Hairdresser's Oil Primer is the perfect solution. It is weightless in the hair and it leaves it soft and shiny while conditioning and repairing strands. It is also clinically proven to protect the hair from any heat damage.
5. If you were stranded on an island what is the one product you'd hope you packed?
I wouldn't make it without Bumble and Bumble Grooming Cream. As it says on the packaging "for those who love to look groomed and polished but hate to work at it"
6. What is one thing your clients should know about you?
I was an English major. I fell in love with British literature in middle school after picking up a copy of "The Picture of Dorian Grey" by Oscar Wilde at an airport book store. That lone impulse purchase led me to become an English major in college, specializing in British lit.
And I am better at Fantasy Football than you.
Call and to book your appointment at our Brookhaven Salon soon. Let Moses take care of you! (404)373-2003