The Power of Proper Hair Care for Long-Lasting Color and Style
03.01.2023
---
When it comes to hair care, you want to do it right. Caring for your hair is essential to hair rejuvenation and hair protection. Keeping up your hair healthy will be key in being able to pursue new hair colors, hair treatments, and a variety of other things that require proper hair maintenance. So for maintaining good color, healthy hair, and just overall ensuring you get the most out of everything you want- follow this selection of tips to keep your hair how you like it. 
How Often Do I Shampoo My Hair?
How often you shampoo your hair depends on your hair type, and the treatments you have had. Typically, once or twice a week is ideal for most hair. Curly hair types should be shampooed only every so often- and when your hair has faced a variety of chemical treatments, you may want to shampoo it even less than a week. However, if you have nice and healthy hair, you can feel good with shampooing once or twice each week, with conditioner rinses in between.
If you have colored hair, this will help ensure that you have long-lasting hair color as well- because the less you shampoo your colored hair, the more time it takes for it to fade in color. Using conditioner to clean your hair can even help make sure your hair stays soft. 
How to Shampoo Hair Right
The first step to shampooing your hair right is to saturate it. Make sure it's wet, with lukewarm or cool water. The temperature is to ensure that your hair does not suffer heat damage and that any color you have put in does not fade prematurely. Then, shampoo once. Gently massage the shampoo into your scalp with the tips of your fingers. Avoid using your nails, to keep from hurting your skin and hair. Then, you want to rinse well before adding more shampoo for a second round. Shampooing twice is important to make sure that all the dirt and oil are lifted from the scalp, after being loosened and rinsed by the first shampoo. Follow up with a conditioner, regardless of your hair type. Apply it to the middle of the hair shaft and the ends, so that they can get all the moisture they need. Once it has been left to sit, rinse it out thoroughly and towel dry gently. Just pat it- do not squeeze or rub the hair. Then, put in a leave-in conditioner and begin styling. Durable hairstyles can help to make sure your hair is protected from the elements, and if you can avoid heat then it is even better. Protecting your hair from excessive use of heat will help make sure that both your color and overall hair don't suffer from it. Using heat protectants can help cut down on any problems it can cause when you do use them. 
Why Use Leave-In Conditioner? 
A Leave-in conditioner is one of the best ways to ensure that your hair stays hydrated. It is hair nourishment- keeping it lively. It stays in the hair instead of getting rinsed, so it has all day to absorb and utilize all the moisture it can get from it. So you do not have to worry about the ends of your hair being anything but healthy. Even the driest hair can be rejuvenated with a good leave-in conditioner when it's used daily.  
Using Dry Shampoo
Dry shampoo can be your best friend when you don't have time for a proper shampoo. However, it is especially helpful when you are in between shampooes, and your hair needs a pick-me-up. It absorbs up all the oils that collect on the scalp and helps it to smell nice, as well. It even adds back lost body and volume to your hair, for you to enjoy!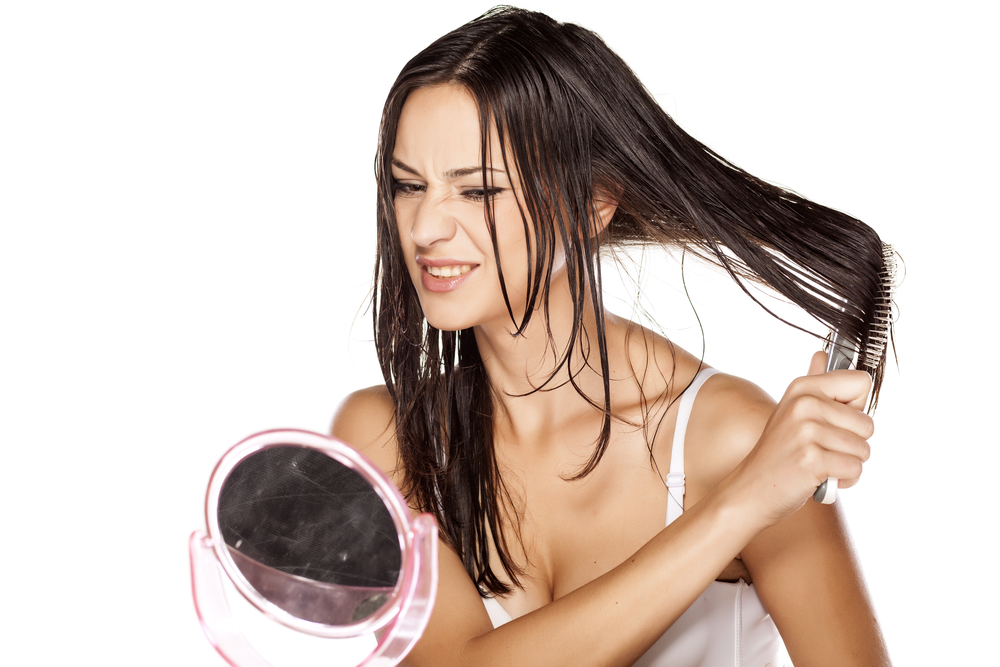 Detangling Your Hair
One thing very important to remember when you brush your hair is to never use a hair brush when it is wet. When you brush wet hair it can overstretch it, making it break and frizz up. Using a wide-tooth comb can lessen the amount of breaking tremendously- and you want to start from the bottom. Start from the ends of your hair and work it up to the top. This way, your comb doesn't get caught in tangles and try to pull them out. They will just get worked out, easily and without hassle. These healthy hair tips and this hair care routine will help encourage hair growth and leave you with shiny hair you will love. 
At Salon Red, we use only the best products when we shampoo your hair. Oribe, and Bumble and Bumble, are the products we love the most. Bumble and Bumble is cruelty-free and strives to be the very best in the business. Oribe strives to be a unique, professional brand of hair care that you can find in every salon. Both brands are constantly reaching higher- aiming to provide better products daily. 

When you come to Salon Red we can help you gain and maintain a healthy mane of hair. Book your appointment today at any of our Atlanta locations: our Brookhaven location - 804 Town Blvd, Suite 1045, 404-373-2003, or our Candler Park location - 1642 Dekalb Ave, 404-373-2868. You can schedule a virtual consultation with us now!