Coolest 2022 Back-to-School Hairstyles For Students and Teachers
08.01.2022
---
As much as we hate to see summer break come to an end, it's time once again to get ready to head back to school. While it's sad in one way, it's also exciting to update your wardrobe and try out fun new hairstyles for that first day of class. It's like you get another chance to make a first impression all over again every year. To make sure you make the right first impression this school year we've put together a list of the coolest back-to-school hairstyles for the 2022-2023 school year. Use this as inspiration when choosing your first day of school hairstyle.
Half Up Wavy Space Buns- This half-up style starts with two small space buns on top of your head. The rest of your hair is left down and styled into big waves. Long side bangs parted in the middle frame your face to complete the look.
Twisted Crown- If you have medium to long hair you no doubt want to show off how much it's grown over the summer, but you don't want to deal with it in your face all day. Start with some flowing waves and place a thin headband around the top of your head about an inch from the hairline pushing your hair down and forward. Starting at the front wrap pieces of hair around the headband to create a twisted crown while leaving at least half of your waves down in the back. Secure the crown with bobby pins and you're done.
Small Cornrows and Pebbles Pony- For this style, you'll section off a rectangle on top of your head going straight back to just in front of the crown starting mid-eyebrow. Create 3 small cornrows that meet in the middle back. Secure with an elastic and then wrap the base with a section of hair to create a lifted ponytail that will cascade down the sides and back. 
Glittery Crimped Dutch Braids- You'll be going a little bit retro with this style and breaking out the crimping iron. Crimping adds a ton of volume to your strands which will allow you to create two chunky dutch braids. Start center front and go down each side to meet at the back of the head and leave the rest of your hair down, or braid it to the nape of the neck and then join together into one mermaid braid right to the ends. Either way having the tips or hair that's down crimped will add a bit of edgy flair. Spritz on some glitter spray to make it even more eye-catching.
Easy Breezy Shag- If you want to minimize daily styling, ask your stylist for a shag haircut. This cut is ideal for busy high school and college students who often need to head straight to class as soon as they roll out of bed, especially after a long night of cramming for a test. This cut is meant to look a little messy and carefree so it will look great even when you don't have time to style it.
Box Braids- Box braids are a great protective style for back to school. Not only are they versatile, but they are long-lasting as well. You'll be able to rock these braids for about six to eight weeks. Wear them up or wear them down. You'll look great either way.
Braided Braids- So you have your braids, now what do you do with them? Braid them of course! Big double Dutch braids following the hairline down each side are a gorgeous way to showcase your box braids. A single Dutch braid down the back is both beautiful and dramatic.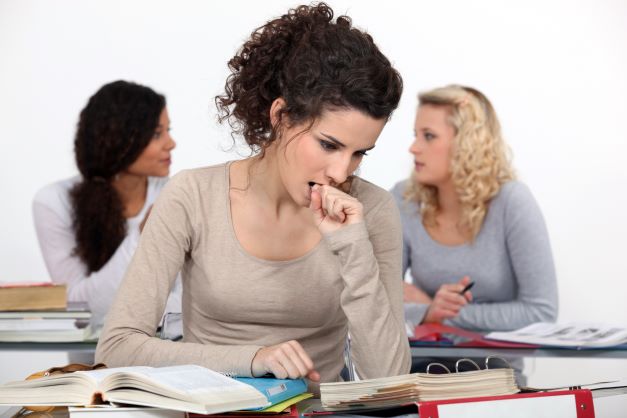 Teachers Need Cool Back-to-School Hairstyles Too
Teachers, don't let the students have all the fun. Start your school year off with a fresh new hairstyle and boost of confidence as well. You want to look your best, but you're busy. You need easy too. Here are a few easy hairstyles to get you out the door fast on busy mornings. These are so cool that you might even notice your students stealing your hairstyle ideas.
Braid Tuck- Start with a simple French braid down the side of your face using only about half of the hair on top. Braid it all the way down. Pull the rest of the hair back on that side and secure the braid in the back underneath with bobby pins. They pull the loose hair over the top of it. 
Braid to Bun- Start with a side French braid again using about half the hair on that side of your head. Braid to the nape of the neck and then gather all your hair and secure it into a low side pony at the base of the braid. Braid or twist the tail in sections, twist sections into a low side bun, and secure with pins. 
Half Up Half Bun- Secure half your hair into a ponytail just below your crown. Divide the ponytail in half and secure the top half into another ponytail, but on the final pass through the elastic only pull it through about 1-2 inches with the tails pointing up and forward. Divide the tail in half and tucked each half behind each side of the loop and let them hang down. Fan the loop out and secure it with pins. 
When you're at Salon Red, be sure to get the must-haves for your backpack - hair spray, shine products, and dry shampoo! We sell only the best with Bumble and Bumble and Oribe. 
The talented stylists at Salon Red would love to help you head back to school with the coolest hairstyle to start the year off right.  Reserve your appointment for a new cut and color today at any of our Atlanta locations: our Brookhaven location - 804 Town Blvd, Suite 1045, 404-373-2003 or our Candler Park location - 1642 Dekalb Ave, 404-373-2868. Need one-on-one stylist advice before choosing your new style? Schedule a virtual consultation with your favorite Salon Red stylist today. We can't wait to see you here!