Our Salon Red Kid's Salon Has It All!
06.01.2020
---
If you have a little one, you know that keeping their attention long enough so do anything, much less sitting for a haircut, can be next to impossible. Our Kids Brookhaven location is a kid-friendly and fun environment where our stylists are fun, engaging, and know how to work successfully with children! 
Who do we cater to? We cater to littles up to those bigger kids that are still a kid at heart. Not only do we offer haircuts, we also style, braid, and can add a temporary funky hair color to give them a little pizzazz this summer. 
What if my child has never had a haircut? Do you have a little one that is needing their first haircut? We know how to do it right! We offer two first haircut packages so that you can keep those memories with you forever. 
Salon Red Kids isn't just for hair! Visit our shop to find unique children's skin care products, crafts for building learning skills, toys, and clothes from fabulous local vendors such as Jefferies Socks, Alex, Manhattan Toy, Melissa & Doug, Jellycat and more! 
School-ready hairstyles for school. While kids are going back to school at different times or doing virtual schooling at home, all kids need a hairstyle that will last all day long. Here are some of the best looks for girls that will last thru all the learning and play and for boys that is easy as wash-and-go.
Hairstyles for Girls
Braids Galore. Whether you're going for intricate or running late and need a quick style, braids never fail. The versatility of braids is a staple for any age. Send your girl to school with cute and simple crown braids, a gorgeous fishtail, or a simple low braid. Your options are limitless with it comes to braids. 
Short & Easy. Sometimes dealing with long hair and knots in the morning are just more trouble than they are worth. Pixie cuts can be the perfect way for kids to have a cute style without the time-consuming upkeep. You can invest in some cute bling, clips, and jeweled headbands to get a modern look quickly.  
Stylish Updo's. Going for an updo will help to keep their hair out of their eyes and will keep them from touching their face area throughout the day. Go for a bun, or if you are feeling daring, a double bun for twice the cute. A quick top-knot or a stylish half-do just sweeping the sides back is trendy and low-maintenance.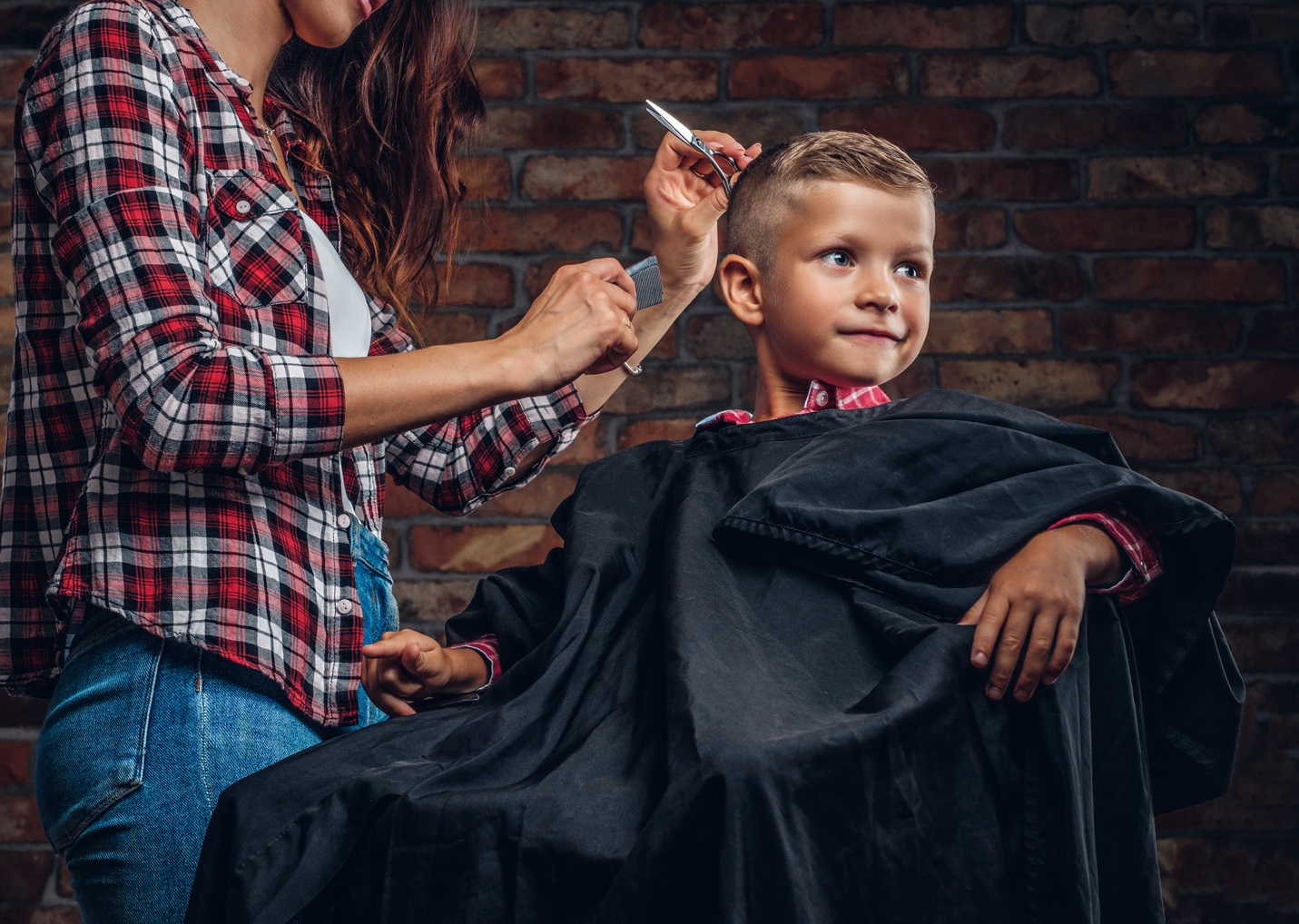 Hairstyles for Boys
Tough Crew Cut. When the weather is still hot, a favorite for both men and boys alike is the crew cut. The top is cut very short and stand upright while the back and sides are tapered in to be even shorter. This is a simple haircut to roll out of bed and go. If your boy has thicker hair, you can take off more length in front but if your boy has thin hair, keep it a little longer to give the appearance of more volume. 
Trendy Undercut. This type of cut is similar to the crew cut, except the undercut is parted while the hair on top of the head is left longer while the sides and back are buzzed short. The length on top gives more versatility for an older kid who wants to be able to change up his hair. With this cut, it can be slicked back, spiked on top, or left to air dry and look tousled on top. 
Embrace the Curls. If your child has some natural curl going on, a curly cut will help him embrace his curls. It's a scissor cut that is more relaxed, leaving the hair on top slightly longer than the sides. Add a few layers to create texture and amp up those curls. It's an easygoing and natural look without looking unkept and messy. This is a true wash-and-go style for kids who hate styling their hair. 
Every great hairstyle starts with a good haircut. Bring your child into Salon Red for a fresh new style, a trim, some creative color, or a fun braided look. Learn some new styles from our stylists so that your kids will go back to school with a modern look and plenty of confidence.  
If your kids are in need of a new style, haircut, or just looking for some great children's items, Salon Red and our Kids Brookhaven location is here for you!  Book an appointment today! Our Brookhaven Kids location is right next door to our salon - 804 Town Blvd, Suite 1055, 404-228-7887. We look forward to seeing you again!