Salon Red Cares About Your Safety
07.01.2020
---
With so much uncertainty in today's world, Salon Red wants to make sure you feel safe and empowered at all our Atlanta salons. In anticipation of our re-opening, we took extra precautions, updated the salon, and ensured that all areas of our salon are inviting and comfortable while adhering to strict guideline standards. Here are just a few of the things we did to guarantee our clients and staff are happy, safe, and well cared for.
Redesign salon format. You may notice when you come back to our salons that they look a bit different. That's because we redesigned the salon to allow six feet between all work areas so that our guests and team have the space needed to work confidently and safely, and so our guests are far enough apart so that you feel encompassed in your own safe space.
Our new normal. To be in compliance with safety and health measures given to us by the Georgia State licensing cosmetology and barbering boards, we have closed all the common areas and removed all magazines, flyers, and other printed material. You will see all members of our team wearing gloves, masks, and thoroughly cleaning between each guest so you have a clean, safe space every time you visit.
Our haircutting service changes. Please come into the salon with clean, dry hair. We will be doing dry cutting only at this time and the only shampoo we are permitted to perform is with our hair color services. There will be no blow drying, since it pushes the particles around the salon beyond the recommended safe distancing guidelines.
Extra training for our stylists. All of our Salon Red stylists have passed Covid-19 Sanitation Training and BARBACIDE® Training. If you are unfamiliar with BARBACIDE® – it's a common product found in the salon and spa industry. Being the first line of defense, it's an EPA-approved hard surface cleaner that effectively disinfects all surfaces in salons and spas. We value safe products at Salon Red, and we are confident that it's safe for use on all our surfaces in our salon and the EPA has certified it as effective against Covid-19 and other human coronavirus strains.
Appointment scheduling. We encourage you to Book Online by setting up your AURA account and adding your payment method. We will not be taking cash payments and support this type of touchless system.
Safe check-in. When you arrive at any of our three salons, text us to let us know you are here for your appointment before heading inside. We will let you know when your stylist is ready for you to come into the salon wearing a mask and gloves, and we will take your temperature before entering. Please be patient during this time as we strive to make this as seamless as possible. As with everything in life, unforeseen things can slow down the process just a bit.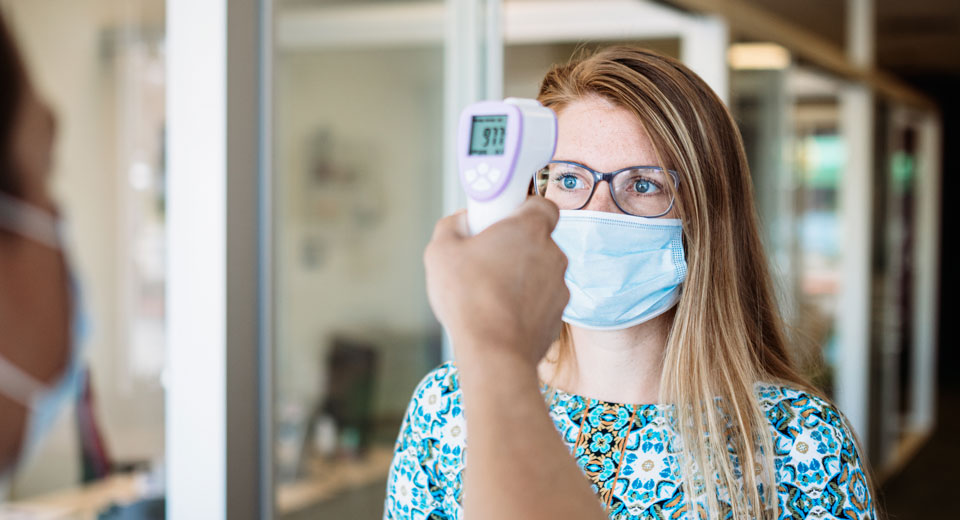 We value our guests. We value our guests who come back to join us in the salon. We know your concerns and empathize with your feelings. That is why we want to make your experience as enjoyable, yet safe as possible. We appreciate the time you've taken to follow guidelines to safely enter the salon and we take pride in knowing our team is doing everything in their power to keep you safe, so you can leave our salons feeling confident and looking beautiful.
If you are ready to get back to Salon Red for a haircut, hair color, or for any of our special hair treatments, book an appointment today! We have three Atlanta locations to serve you. Our Brookhaven location - 804 Town Blvd, Suite 1045, 404-373-2003. Our Brookhaven Kids location right next door - 804 Town Blvd, Suite 1055, 404-228-7887. Our Candler Park location - 1642 Dekalb Ave, 404-373-2868. We look forward to seeing you again!