A Conversation with Jessica Soler
12.27.2014
---
Written by the Oribe Team for their professional newsletter in December, 2014.
At the age of 25, Jessica Soler was a recent hair school grad with only junior experience in salons. But that didn't stop her from opening her own salon, named Salon Red, in March 1999 in the Atlanta neighborhood of Candler Park. Since then, she's expanded from eight stylists to 100 employees in five locations throughout the city of Atlanta—three adult-only full-service salons, one with a spa and two kids-focused, salon-meets-toy store locales.
Her growing business and entrepreneurial nature has also fed her crafty tendencies, including making dresses out of recycled materials like hair color boxes, shampoo bottles and hair magazines for her salons' eye-catching window displays. "I'm almost finished with an Oribe dress using outdated promotional posters. It's huge and beautiful!" exclaimed Soler. Her creative talents were soon recognized by The Art Institute's Decatur branch, resulting in the opportunity to create a holiday window display for the school. We spoke with Soler about getting into the hair business, how she manages her salons and the inspiration behind her holiday window display.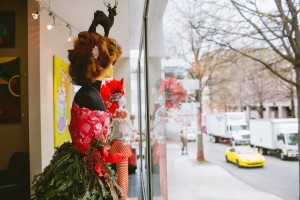 How did you get into the profession?
The real truth is I had gone down the wrong path in life and was faced with a year to get my act together. So I went to hair school the very next day, and throughout my first week, I had all of these flashes remembering how much hair I did my whole life. I remembered I did hair and makeup for my high school plays and the cheerleaders. Once I started, I instantly knew this was for me.
I'm a risk taker and a trial-and-error person. I learned so much through every failure and mistake; I just kind of jumped into the business and didn't have a clue. I'm a very natural leader and a dedicated hard worker. I like to lead by example.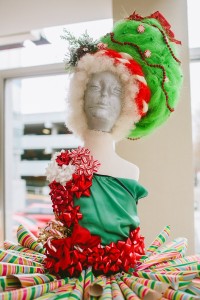 How do you manage all of your locations?
I have a team leader and assistant team leader at each location and I rotate around each week. I see every employee every single week. I also coach my staff on a monthly basis. They can sign up for coaching with me, and I work with them on anything, whether it's personal or marketing. Whatever it is they need, I'm there to help them accomplish their own goals. What I originally thought would bring success to the salon is very different then how I think 20 years later. It's really giving back and helping people reach their goals.
I also learned a lot about the business through courses (that's how I first met Daniel and Tev), education and reading books. I have a business coach who has helped me for the past 16 years. My sister, Jennifer Parker, is also my second-in-command here, and she's been with me for 14 years. She has done a ton behind the scenes while I drove the front of company. Now I really do all of it, but she's been a huge, instrumental part.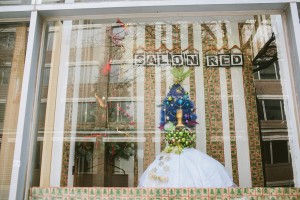 What are your go-to Oribe products?
I'm so in love with the Gold Lust Collection. Dry Texturizing Spray is one of my favorite styling products. I also have been using a lot of the Split End Seal lately. The Beautiful Color Collection is my go-to for shampoo and conditioner.
What turns you on creatively?
I love looking at the history of hair and I love the tools. I collect vintage blow-dryers, mirrors, razors and clippers. My salons are very retro in décor, so a lot of my vintage hair items are on display. I usually get them from antique stores, flea markets and eBay. I get a lot of magazines, too. In one of my locations, I have all of the images from the top winners in hair competitions from the '70s laminated. They cover one whole wall.
There are a lot of people out there who I look up to. I've been looking at Douglas McCoy's how-to videos on YouTube. He's a super creative guy and has some great stuff, even just about branding yourself behind the chair and making your personal brand match with your salon's brand.
From the Oribe team, Dan, Tev and Todd are huge inspirations as well. The last time I sat with Todd, I walked away with so much inspiration and so many ideas. My brain was going from our conversation. Both Leslie Petrosino and Kemper Brennan have been very instrumental in all of the Oribe classes and are really good partners for me.
What's the best advice you've ever received?
Be present in the moment. Be grateful. Those are probably the two things that I try to remember every day.
What hair trend are you starting to notice these days?
I love how things are somewhat reverting back to the older days when people got their hair done once or twice a week. I think the blow-dry bar rocketed that. People don't have to do their hair at home. They can come into the salon, get their hair styled and they can maintain it with education and products from us. I love that trend. I have clients who come in twice a week. They never do their hair. It's a new twist on what our grandmothers did.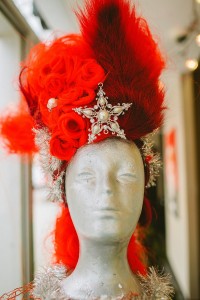 Tell us about how you ended up doing the a holiday window display at The Art Institute of Atlanta-Decatur.
I do window displays for all of my locations, and The Art Institute happens to be on the same street as one of my salons in downtown Decatur. They have students who learn about visual displays in one of their classes, and they wanted to help me for some hands-on experience. They did my Halloween window display, and I gave them complete creative freedom. In return, Dr. Courtney Hammond, who is the Academic Program Coordinator of the Fashion Retail & Management and Fashion Design Departments, asked me to come down in December and work with the students for a two-hour class on setting up a window display with Christmas wigs. I made five dresses and five wigs from recycled materials like wrapping paper, ornaments and actual Christmas tree clippings. I took the materials up to The Art Institute and taught the class, and now the window is on display.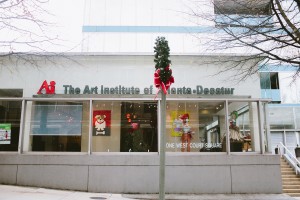 What was your inspiration for the holiday window display?
I love the movie How the Grinch Stole Christmas with Jim Carrey, so I did a green-colored, Christmas tree-shaped wig, and the dress is made out of wrapping paper. Another one was inspired by Pinterest, with photos of Christmas tree dresses. I made a dress out of wrapping paper for the top and then the bottom is all Christmas tree. The wig for that actually has a deer made out of hair.
What Oribe products did you use for the wigs?
I used the Superfine Strong Hair Spray a lot. I would also melt Rough Luxury Molding Wax in my hands and rub that through the wig pieces. I used Dry Texturizing Spray to set a lot of the wigs.
What's next for you?
Now that I've started a relationship with The Art Institute, the students can help me as interns. In the spring I'm going to put on a fashion show at the Color Wheel, an after-school art studio that my client Kathy owns. The Art Institute students will have a chance to put together their own fashion show, and then I'll show my recycled dresses with all of the hair done by my creative team.