How Specialty Hair Coloring Is More Than Color And Technique
09.01.2022
---
There are a variety of different specialty hair techniques. There are money piece techniques, where lightning and foiling methods are used to brighten up hair at the front of the head. There's color correction, which is used to lift out dark shades for a lighter shade in your hair- or vice versa. There are creative colors, which can be a more complex procedure than it may seem- especially if you get these colors often. But no matter the technique, you can not just jump right into coloring and call it good. There's more to consider. 
Hair Levels and Tones
Understanding hair levels and tones is a key part of being able to safely and effectively color your hair. A hair level is how light or dark your hair is, which can determine how much lift you will need to get your color. If you have level one hair, that is as dark as it can get. You will need a significant amount of lift depending on how light of a color you are going for. However, if you have level 9 or 10 hair, you may actually need a color added to your hair for your desired color to rest on top of, to make sure you get the color you want. The tone of your hair determines how warm or cool a shade the overall color is, also influencing the technique your stylist will use.
Natural Levels VS The Level You Want
Determining your natural level is important in the process of getting to the desired level. This can be easily done by sight for a trained stylist, but for the untrained eye, level 1 is the darkest, while level 10 is the lightest. It will be a process if you want to go from level 1 to level 10. Your stylist will need to slowly and carefully lift the pigment from your hair. This process can take a couple of appointments when the change is this extreme. You may even benefit from deep conditioning and protein treatments in between to keep from damaging your hair. You may also notice that your hair can yellow during the bleaching process, which stylists can cancel out by adding in hair color. The lighter your hair is naturally, the faster and less time-consuming the process will be. 
Undertones
Undertones also play a role in specialized coloring techniques. The tone of your hair naturally is either going to be warm or cool, but the tones in your desired level might be different. For example, if your hair is brown, you likely have warm, yellow, and orange undertones. If you go for creative color and get an icy blue shade, then your stylist will want to make sure that your natural tones do not come through. Brassiness is an issue a lot of people can face, but this can be combated with toners and color enhancing shampoos, and conditioners designed for toning the hair.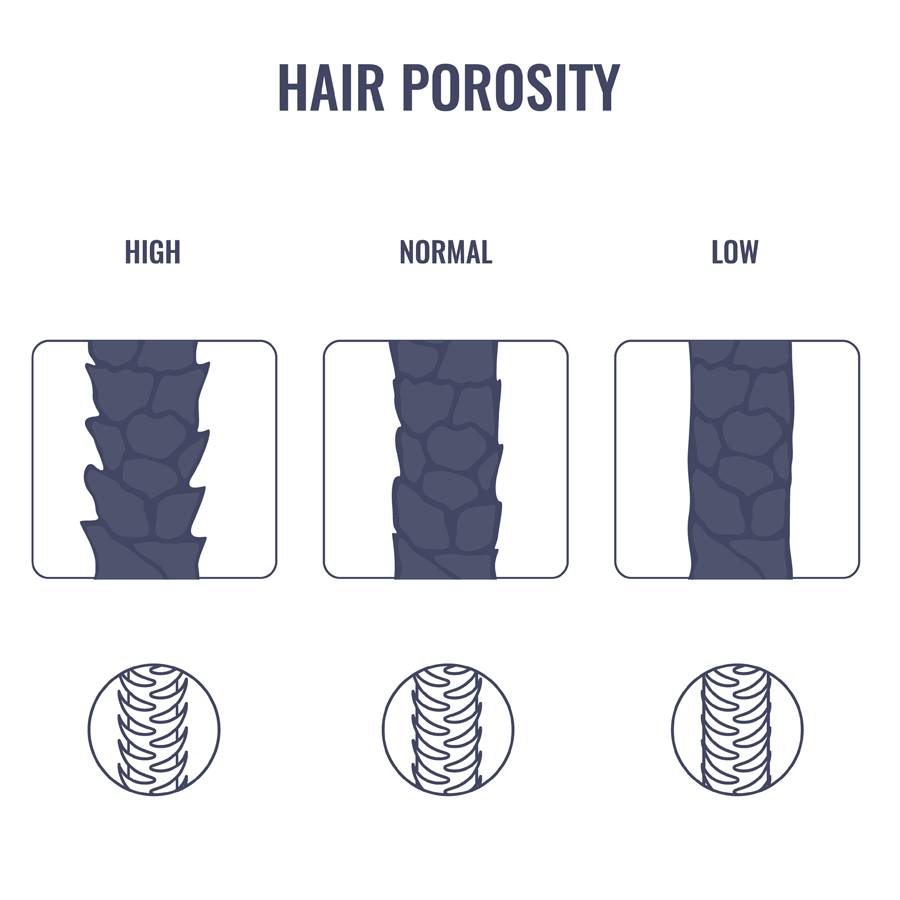 Hair Porosity & Texture
Your hair porosity can help stylists determine not only how damaged your hair may be, but it also lets them know that your hair will be absorbing the color much faster and much more thoroughly than hair with low porosity. Over absorption of the color means that your color can come out dull and lifeless, so it is important for your stylist to know how much your hair can absorb so they can accommodate its needs. Your hair texture can also be telling of how porous your hair is going to be. The curlier it is, the more likely it is to be extra sensitive to coloring. 
Hydration and Protein Treatments 
Depending on what you want or need in hair treatment and style, and how damaged your hair may be prior to getting them, can heavily influence how often your hair is treated with moisture and protein between color lifts. Without this consideration, your hair colors might not last nearly as long and come out dull. Using protein treatments on hair ensures its strength so that a stylist knows that it can withstand the harsher, long-term treatment it will have to go through in order to get the color you want. Hydration treatments and conditioning are often done both before and during this process to ensure that your hair doesn't dry out or damage. You are already going through the long process of getting your hair just how you want it. You do not want it to be damaged once you finally get it perfect. How much of this you need during the process, can easily depend on how porous and textured your hair is, and its overall condition. 
Whether you go in for a teasylight, chunky highlight, root smudge, or just want to change up your color, there are a lot of different procedures and considerations for a stylist to go through when treating your hair.  If you are going in for a color correction it is unpredictable depending on what coloring processes you hair has been through and what types of hair colors; permanent color, semi or demi permanent or even temporary colors are already on the hair, and what percentage of your hair is natural color vs artificial color.  The color correction process also will be determined by the hairs natural condition, texture and porosity and this can help determine how many lightning, toning, and coloring sessions as well as deep conditioning treatments you will need to get the end result you desire.   Our hair colorists will discuss all of this with you before starting a color correction service.

Come try a specialty hair color or technique with us at Salon Red. To make an appointment, you can book your hair color, haircut or styling appointment at any of our Atlanta locations: our Brookhaven location - 804 Town Blvd, Suite 1045, 404-373-2003 or our Candler Park location - 1642 Dekalb Ave, 404-373-2868. Schedule a virtual consultation with your favorite Salon Red stylist today. We await your arrival!