Hairstyles to Wear with Your Face Mask
08.01.2020
---
We're all wearing face masks everywhere, but we still want a stylish look that reflects our own personalities. Thankfully, there is a lot you can do to look great even with a mask on, and the secret is to focus on everything that is still visible with a mask on – and your hairstyle is the perfect place to start.
There's a lot you can do to express yourself with your hair, and your look will always be unique because everyone's hair is different. When choosing a great hairstyle to wear with a face mask, there are a few things you'll want to consider:
The type of mask. Most masks have ear loops that attach behind the ears, but in some cases, you might use one that has strings that tie in the back. You'll need a hairstyle that works with the type of mask you'll wear most often, so look for something that keeps your hair off your face and away from your ears for ear loop masks, or something that gives you a place to tie the string type masks behind your head.
Length of time in the mask. Comfort is just as important as style, so the amount of time you spend in a mask will affect your hairstyle choice. If you're working at home right now and just need a mask for a few quick errands each week, you won't need to be as focused on mask comfort as an essential worker who must wear a mask all day, every day.
Quick changes. If you do need to wear a mask all day, you'll need to think about frequent mask changes, so choose a hairstyle that makes this easy without your hair getting in the way.
So, what are the options for face mask-friendly hairstyles? A lot depends on your hair type and length and what feels comfortable for you. Here are a few ideas for you. 
Try a tied-back look. Ponytails and braids are always in style, but with face masks everywhere, they have become the go-to style for mask wearing, especially if you wear masks all day. A tied-back style can be as simple as a quick ponytail or as complex as multiple mini-braids in a twist, and that's what can make it unique for your own personal style. Dress it up by having fun with mix-and-match mask colors and prints as well as matching hair accessories like headbands, clips, ribbons, and hair ties. If using braids, you can even weave in a little color with a ribbon that matches your outfit or a couple of peek-a-boo streaks of bold, bright fantasy hair colors to really let your personality shine through.
Go shorter. Have you been thinking about trying a shorter hairstyle? With all the mask wearing, now is the perfect time to go for it! Super-short pixie style cuts are perfect for all types of masks, but if you don't want to go quite that short, there are still lots of shorter styles that make mask wearing comfortable. Even if you're not ready to make the leap to a short hairstyle, be sure to come into Salon Red for regular trims, since they will prevent split ends that can cause more breakage, not to mention a dry, frizzy look that can sabotage your style.
Take it up with an updo. If you don't want to make a drastic change but want a great style that transitions easily from business to casual, try an updo. The updo is a versatile style, giving you a range of options from sleek and slicked-back to messy and fun. Buns, knots, and twists get your hair up out of the way for ear loops, and if you wear the tied-back type of face mask, you can position your bun to be above or below where you need to tie the mask – or try a double bun and tie it right in the middle.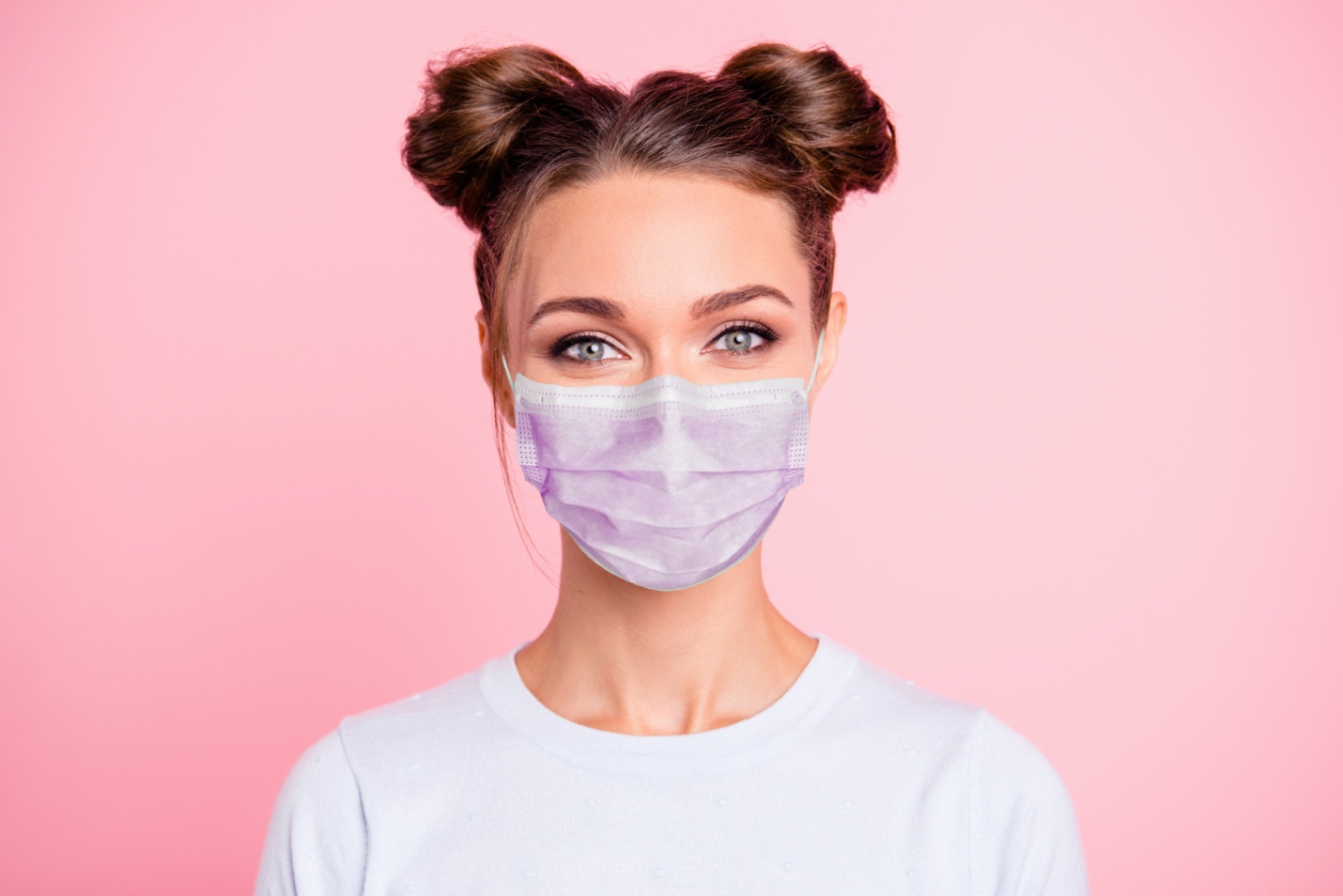 Inspired to try something new with your style? Don't let face mask requirements keep you from showing off your individual personality. Make an appointment today at Salon Red and our professional stylists will help you get the perfect look, either with a new cut, a fabulous blowout style, or even a fun new fall hair color! Book an appointment today at any of our three Atlanta locations: our Brookhaven location - 804 Town Blvd, Suite 1045, 404-373-2003. Our Brookhaven Kids location right next door - 804 Town Blvd, Suite 1055, 404-228-7887. Our Candler Park location - 1642 Dekalb Ave, 404-373-2868. We look forward to seeing you!