Style Showdown: From Geek to Chic - The Must-Have Looks Dominating High School This Year
09.01.2023
---
High school is not only about learning and making friends; it's also a place where personal style takes center stage. As the new academic year begins, students are eager to revamp their looks and stand out in the crowd. From classic braids to trendy haircuts, there are various hairstyles making waves among high schoolers. To help inspire your 2023 back-to-school look let's explore the must-have looks dominating high school this year, bringing you the ultimate style showdown from geek to chic!
 
Dutch Braids:
Kickstarting our style showdown are the charming Dutch braids. These braids, also known as "reverse" or "inside-out" braids, are created by crossing the sections of hair under each other, giving them a raised appearance. Dutch braids add a touch of sophistication to any outfit and are perfect for those who love an elegant yet fun look. To achieve a sleek and polished Dutch braid, use Bumble and Bumble Thickening Spray before braiding. This spray adds texture and hold, making it easier to create the perfect braid.
 
Bubble Braids:
Bubble braids are taking the high school scene by storm. This hairstyle features multiple mini-ponytails, creating a bubbly effect. Bubble braids add volume and playfulness to your hair, making them an excellent choice for casual days or special events. Add extra bounce to your bubble braids by using Wella EIMI Sugar Lift Sugar Spray. This spray provides texture and lift, giving your braids a full and voluminous appearance.
 
Waterfall Braids:
Elegant and whimsical, waterfall braids are ideal for those looking to add a touch of romance to their style. These braids create a cascading effect, resembling a waterfall of hair. Waterfall braids effortlessly elevate any outfit, making them a popular choice among high school fashionistas. For a long-lasting and frizz-free waterfall braid, use Oribe Superfine Hair Spray. This spray provides a flexible hold and adds shine, ensuring your braid stays in place all day.
 
Disney Princess "Belle" Braid:
Inspired by the iconic Disney princess Belle, the "Bell" braid is a dreamy hairstyle that's sure to turn heads. This braid features a combination of French and fishtail braids, creating a stunning and intricate look that's fit for royalty. To keep the braid looking flawless, use Wella EIMI Perfect Me Lightweight BB Lotion before braiding. This lightweight lotion moisturizes and smooths hair, making it easier to braid and preventing flyaways.
 
Double French Braids:
Double the fun with the classic and chic double French braids. These braids offer a sporty and stylish vibe, making them perfect for high school athletes or anyone looking for an easy yet polished hairstyle. Create a sleek and polished look for your double French braids with Bumble and Bumble Hairdresser's Invisible Oil Primer. This primer protects hair from heat and tame frizz, ensuring your braids look sleek and stay in place.
 
Side Pony with Boxer Braids:
Combine the flair of a side ponytail with the edginess of boxer braids, and you have a show-stopping hairstyle that exudes confidence. This bold look is perfect for expressing your unique personality and making a statement on campus. For a fierce and long-lasting side pony with boxer braids, use Oribe Dry Texturizing Spray. This spray adds texture and grip, ensuring your braids and ponytail stay in place all day.
 
Short Wavy Shag:
Short haircuts are not just practical; they can also be incredibly stylish. The short wavy shag is a trendy haircut that adds texture and movement to your hair. This effortlessly cool hairstyle is perfect for those who want to embrace a carefree and laid-back look. Enhance the natural waves of your short wavy shag with Oribe Matte Waves Texture Lotion. This lotion adds texture and definition, giving your hair a cool and effortless beachy vibe.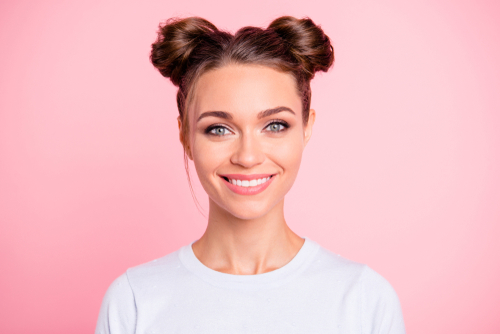 Double Braided Space Buns:
Bring out your inner rebel with the trendy and out-of-this-world double-braided space buns. This fun and playful hairstyle features two braids styled into cute buns on top of the head, creating a celestial look that's both chic and daring. To achieve the perfect double-braided space buns, use Bumble and Bumble Strong Finish Hairspray. This hairspray provides a strong hold, ensuring your space buns stay in place and look fabulous all day long.
 
Now that we've presented the contenders, it's time for the style showdown! Whether you're looking to flaunt your geeky charm or embrace your chic side, these must-have looks offer something for everyone. High school is the perfect time to experiment with different hairstyles and express your individuality through your style choices. Let the style showdown begin, and may the best hairstyle win!
 
High school is not just about books and exams; it's a time for self-discovery and personal expression. Hairstyles play a significant role in shaping a student's identity and confidence. Whether you prefer a chic and polished look or a fun and adventurous style, Salon Red is here to help you achieve the perfect hairstyle that reflects your unique personality. Embrace your inner geek or unleash your chic side - the choice is yours!

So, head to Salon Red and let our expert stylists transform your hair into a fabulous statement that sets you apart from the crowd. Reserve your appointment online or give us a call at one of our two convenient Atlanta locations- 404-373-2003, 804 Town Blvd, Suite 1045, Brookhaven, or 404-373-2868, 642 Dekalb Ave, Candler Park. You can also schedule a virtual consultation with your favorite Salon Red stylist for advice on hair and scalp care, styling, and more.