Serious Business for Salon Red
01.14.2015
---
The Serious Business 2015 conference will be held in NOLA, January 18-19 in the New Orleans Theatre at the Convention Center. Along with Jessica Soler, Salon Red is sending two first timers, stylists Madison Silva and Misti Dort, both who work in our  Downtown Decatur Location. The theme of the conference this year is "Naked," as in practicing transparency in business. Recent studies have shown the benefits of transparency; it is not only ethical, but it is good for the growth of a business, as well as an individual.
If you don't know, " Serious Business® is one of the most celebrated business education events in the beauty industry. It combines inspiration, education and wisdom from some of the world's most innovative thinkers and gives us all an opportunity to re-evaluate our destiny and the importance of the work that we do. The purpose of Serious Business® is, and has always been, to invoke thought and insight and expose people to new ideas and thinking on self-development and business resulting in helping people and businesses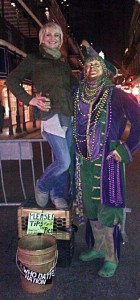 Jessica has been attending Serious Business since 1999, pregnancy seems to be the only thing that can keep her away. Jessica attends the convention for the renewed sense of  passion and purpose she gets from it every year. She finds the convention to be  "inspirational, empowering, educational. It feels like being with family, an extended family with members from California to Canada." To her it is simply a must do.
There are several exciting speakers on this year's agenda, such as Brene Brown, Marcus Buckingham,and Kate Geagan just to name a few. Along with the networking, know how and fun this year, The Second Hand Scissor Project is holding a fundraising event to  benefit the Salon and Spa Relief Fund.
Did I mention the name of this years conference is "Naked?" Well, what happens in New Orleans stays in New Orleans, and I suspect these ladies will be coming back with loads of beads as well as fresh ideas! Don't hesitate to make your appointment today with any of the three of these talented and inspired stylists.