Peek A Boo Highlights for Fall
11.01.2021
---
There are so many different hair colors to choose from – sometimes it's hard to decide! If you're looking for a new style for fall, you may have been thinking about adding some highlights to your existing color.
That's a great choice because highlights help change up your look without the commitment to completely new hair color, but they add so much interest that it really gives you a whole new style. One choice for highlights is peek-a-boo highlights. The styles range from a subtle difference to a stark contrast that will really get you noticed! Here are a few of the trends we're seeing this season for the peek-a-boo look.
Blonde/Brown Contrast This is a great look that uses your natural brunette shade and adds in a high-contrast shade of blonde. The look is unique and definitely attention-getting, no matter where you show off your new color.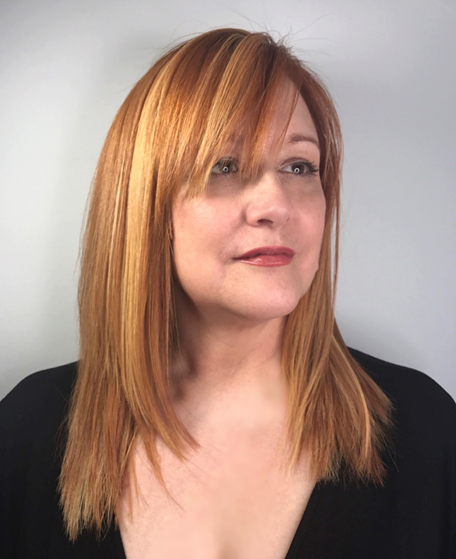 Caramel Chunks. Sounds like a delicious treat, doesn't it? Well, the hair color version is just as delectable. This color works great with both a chocolate brown or even a black – your colorist just adds wide chunks of caramel in between for an eye-catching striped look.
Bottoms up This look works great with a rich black base, then your Salon Red stylist will color the entire underneath with a high-contrast blonde. This look gives you that peek-a-boo look when you wear your hair down as well as an incredible high-contrast blend for updos.
Silver. Another gorgeous look uses a few silver peek-a-boo highlights to add interest to your color. Silver highlights look incredible with a deep, rich black base.
Multicolor Peek-a-Boo. Love bright colors but can't choose just one for your peek-a-boo look? Try it with multiple colors all around your head, giving everyone a quick glimpse while you move around.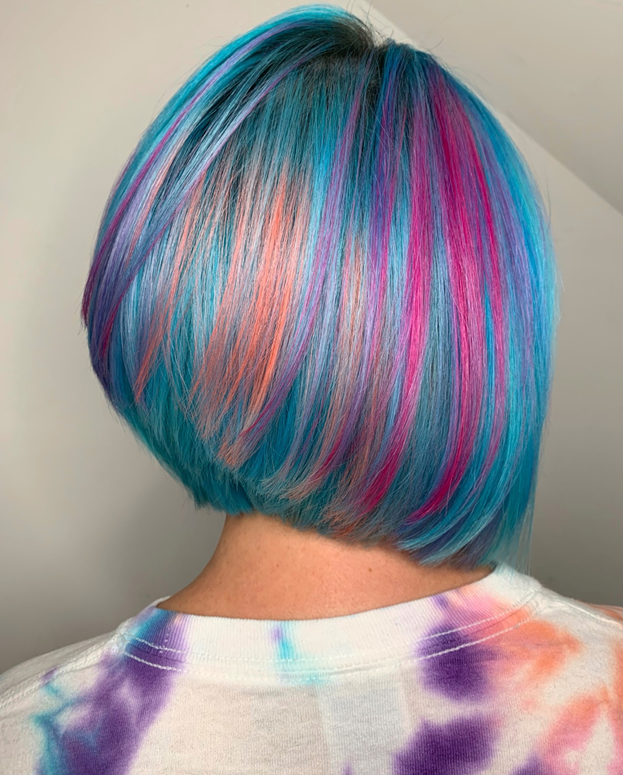 Blonde Peek-a-Boo. The peek-a-boo highlight style isn't just for brunettes – blondes can have fun with it, too! For blondes, it's an opposite effect, with a rich, dark peek-a-boo color underneath.
Shimmering Purple. If you're lucky enough to have a rich, black base to work with, shimmering purple and blue highlights are a must-try color. Use it on just one side or underneath your hair all the way around for a sexy, mysterious look you'll love.
Lilac.For a later shade of purple, try lilac as a peek-a-boo highlight shade. This looks best with a dark brunette with tons of highlights underneath.
Red. For a high-contrast, dramatic peek-a-boo color to go with your dark, rich black, try a bright, bold shade of red. Use it as an underlayer for peek-a-boo movement as well as some incredible looks as you twist it up for updos. 
Ombre fantasy.Here's one that's really unique. You start with a top layer of dark brown or black, then create an ombre underlayer that goes from pink to purple to blue on the ends. With each movement of your hair, they'll get a peek-a-boo of a different beautiful shade for a unique look you'll love.
Thinking about going with a peek-a-boo highlight look? There are a ton of different shades you can try, so make it your own with your favorite shade that represents something special to you.
After coloring, be sure to ask your Salon Red colorist about the best way to take care of your color at home. Your look will stay most vibrant and fresh when you use professional products from the brands we trust here at the salon such as Bumble and Bumble®, Davines®, Wella®, and Oribe®.
Get the look you'll love this fall with peek-a-boo highlights from your expert colorist at Salon Red. Make an appointment today and we'll help you choose a color that will look incredible for you. You can book your peek-a-boo highlights appointment today at any of our Atlanta locations: our Brookhaven location - 804 Town Blvd, Suite 1045, 404-373-2003 or our Candler Park location - 1642 Dekalb Ave, 404-373-2868. Need one-on-one stylist or colorist advice before choosing your new look for fall? Schedule a virtual consultation with your favorite stylist today. We can't wait to see you here!