Sunkissed and Sassy- Time to Lighten Up with These Spring Hair Trends!
04.01.2023
---
Lightening and brightening up your hair for spring can make you feel like a whole new person! It's like shedding your winter coat and stepping out into the sunshine with a fresh and playful attitude. Whether you opt for beachy blonde highlights or a bold new color, nothing says "hello, spring!" quite like a bright, refreshed mane. Here are some 2023 spring hair color ideas to choose from!
Beachy Blonde + Highlights
For a gorgeous lightened look you can get a slight perm with blonde highlights for the ultimate spring look! This fun springtime look is great for the shift from cold to warm. The bouncy texture with the lightened locks is just the thing that you need to take the season head-on. 
Gorgeous Bright Pastel Hair Colors
If you want something bright, bold, unique, bright, and soft, try pastels. Baby pink in particular is one that a lot of people are looking for, and you can get them in face-framing highlights, try getting them as an ombre hair color, or utilize them with a variety of other vibrant hair color trends. Peachy orange is also quite popular, both in terms of pastel orange and adding warm tones to blonde locks. 
Blended Bronde Hair Color
If you want something soft, and vibrant then try blending brunette and blonde for gorgeous bronde hair you can show off anywhere. This is a great way to get a new color without compromising most dress codes- not to mention the highlighted and detailed look that you will have. Your natural color can easily be utilized to mix in color to get this lovely hue, and it's the perfect match for sunkissed, tanned skin. 
Brunette Hair With Soft Red Highlights
If you want to add a bit of flare to your natural brunette hair, then you can go for soft red highlights. A deep, bright red color can really make your hair stand out. The complement of soft crimson on brown makes for a lovely, artsy, vibe for Spring.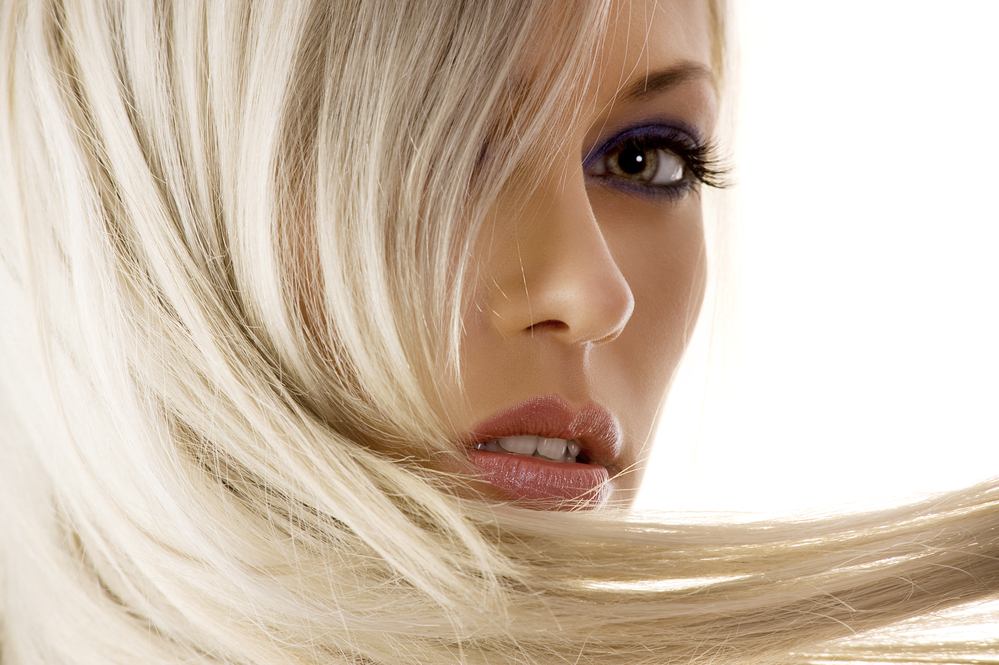 Platinum blonde
Vibrant silvery looks are popular everywhere lately, with their luster and eccentricity. When you try this color, make sure you choose a style that knows how to lift up pigment well, especially if you have naturally dark hair. Platinum blonde hair color hair lightening techniques can be rough on darker hair colors, so you want to go to a stylist you know you can trust. This is one of those brightening hair color trends that is going to take a while to fade out of style. 
Let's Talk Highlights
Highlights are all the rage, and there are a lot of different types! You can try chunky highlights for bold splashes of color, or some trendy-looking wide stripes for an exciting look. Face framing highlights like money pieces make a point of accentuating the face no matter the color you get them in. A balayage hair color is like highlights with a special, fun twist- the technique involves painting them on like your hair is meant to be a work of art. Then you have things like pony lights, where the hair is sectioned out by ponytails and painted the color on with a feathery touch to give you softer highlights. You can also get partial highlights to accentuate and add the illusion of volume in different regions of hair, or just go with a normal, but still lovely and effective highlight. Babylight hair colors, blonde highlights- there are plenty of options! 
Techniques and Treatments
Caring for your hair and keeping it shiny, colorful, and low maintenance can be a lot of work- so we have a few options in techniques and treatments here to make that easier. Hair gloss treatments make the hair easier to manage by making it smooth, and it adds shine to make your colors pop! And if you want hair that is less maintenance, color melting or root smudge techniques can help. Color melting makes the color look as if it has melted into the other tones of the hair, allowing soft contrast that is easier to manage. Root smudging is directly applying darker color to the roots of the hair in order to keep a natural, fresh look without coming back to the salon as often. 
If you need a personalized hair care routine, our salon can provide it. We'll not only help you keep your hair at its best, but we can specifically recommend products from great brands like Bumble and Bumble, and Oribe. These professional salon-grade products and brands are perfect to keep your hair shiny, healthy, and vibrant. Oribe was designed so that you could not only see, but feel the change to your hair, and Bumble and Bumble is always moving forward looking to improve for your best interest. 
Salon Red is the place to go for gorgeous new Spring looks. Come and reserve your appointment today at any of our Atlanta locations! Our Brookhaven location is at 804 Town Blvd, Suite 1045, 404-373-2003, & our Candler Park location can be found at 1642 Dekalb Ave, 404-373-2868. You can schedule a virtual consultation with us now too!