Romantic Blowouts and Updos for Valentine's Day
02.01.2022
---
Valentine's Day is right around the corner, and it's time to start planning that special day with a new outfit and hairstyle that will not only wow him but will be worthy of a special night on the town. At Salon Red, our master stylists are ready to ensure that you'll love your new Valentine's Day hairstyle and that it'll be the perfect blend of romance and chic style to reflect your personality.

Our stylists have put together a list of styles to give you some inspiration for your special day.

Old Style Hollywood Glam. A show-stopping blowout with big, bold curls and a deep side-part, reminiscent of Hollywood starlets, is still hot this season. Bring a picture of your outfit and we'll match the hair to complement the look. Sexy, swept-over hair with some elegant, understated makeup with red lipstick will have you ready to walk the red carpet.

Romantic Top Knot. This classic updo is truly timeless. Top knots give you volume while allowing you to get creative with your hairstyle. They are great for going from work to a night out, you can choose a tight, sleek knot or a loose knot with a lot of detail. Our Salon Red stylists know how to make a top knot so it's a little more intricate to show off your personality.

Layers Galore. If you have naturally curly or wavy hair, layers go a long way in showing off your gorgeous texture. With a mix of shorter and longer layers to those curls, it'll give you amazing volume and dimension – add some highlights in there and you'll be ready to shine all night long.

Half Updo. If you're not sure about wanting an updo or letting those locks flow freely, why not go with a half-up hairstyle. It's flexible for whatever the plans and we're seeing plenty of half-up styles with braids, knots, or hair clipped back with ornamental clips, barrettes, or pearl pins. Enjoy the best of both worlds by pinning your hair back while leaving gentle face-framing tendrils and flowing locks in the back.

Elegant Ponytail. Who says a ponytail cannot be elegant or chic? Sometimes simple and understated is best. Opt for either a high, sleek pony for an elegant look or a loose, almost-messy ponytail for a playful, sassy look. Both can be topped with accessories for the holiday.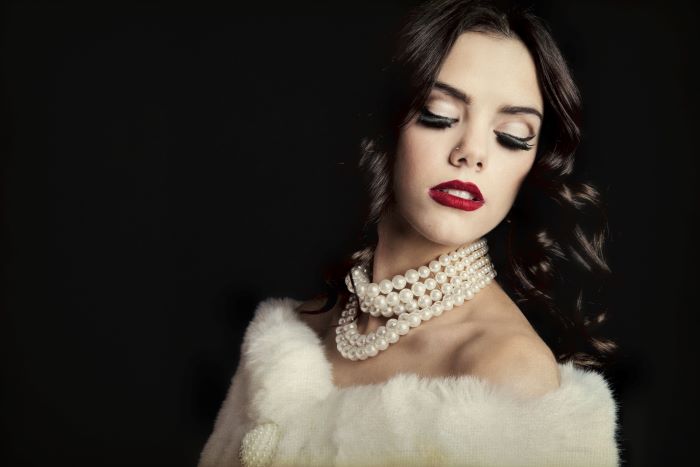 Loose Braids. Nothing says romance like soft, loose braids with gentle tendrils flowing down. Whether you decide on Bohemian braids, a French braid, or waterfall braids, remember that messy and romantic is the target. To finish off the look, you can add ribbons, bling, or small hair accessories to compliment your ensemble.

Soft Beachy Waves. If you have long hair, there's just really something romantic about long, natural waves with a lot of movement. At Salon Red, we can give you temporary beachy waves or ask your stylist about a textured perm so that you can enjoy the look long past Valentine's Day.

Once you've indulged in a blowout or updo, you can help it look amazing all week with our Bumble and Bumble hair care products.
 
Quick tips for helping your blowout last longer:
 
Don't touch!

When you leave Salon Red, don't touch your amazing blowout. Your hair will already look picture-perfect so there's no need to brush it. Running your fingers through it can cause your hair's natural oils to be stimulated, ruining the shape and volume. 


 

Sleep with a soft headband.

Covering the front of your hair will keep the frizzies and flyaways to a minimum.


 

Collect in a loose pony.

Gathering your hair in a loose, low pony will keep the locks together to hold the shaper better.


 

Use a comb.

Gently detangle any knots with a detangler comb. A brush will flatten your style causing it to look dull while a comb will help your blowout keep its style and body.


 

Revive and refresh.

A few days after your blowout you may notice your hair looking a little limp. Revive your style with a minimal amount of dry shampoo to absorb the natural oils. You can also use a blowout spray to give you more volume and smooth the strands. 

Dress up your hair this Valentine's Day and get a new style with a little help from the experts at Salon Red. Make an appointment today and we'll help you get an easy-to-style look that helps you feel great every day! You can book your haircut or styling haircut appointment today at any of our Atlanta locations: our Brookhaven location - 804 Town Blvd, Suite 1045, 404-373-2003 or our Candler Park location - 1642 Dekalb Ave, 404-373-2868. Schedule a virtual consultation with your favorite Salon Red stylist today. We can't wait to see you here!