Holiday Looks that are as Easy as they are Festive
12.01.2020
---
Here at Salon Red, we can't believe it's the end of the year already. Time has gone by quickly, and it's already the holiday season! There's been a lot of stress in this challenging year, so don't stress about your holiday hairstyle. We're here to help at Salon Red, and here are some of the easiest holiday styles for you to try that are both easy and festive!
For long hair:
Accessorized curls. Got long, luscious curls? Show them off and let them flow – but make it a holiday style with a little strategic accessorizing! A big, sparkling clip on one side or a bling-embossed headband can do wonders for upping your festive level for the holidays. To look your best, you'll want your curls tamed and defined without the frizz, so stock up on curl cream, hair masks, and special curl conditioners by Davines® that will smooth the frizz and give you gorgeous, sexy curls for your holiday fun!
Gentle waves. Need a little extra body and definition in your style? Use your GHD® Curve Wand and some sea salt spray to gain extra waves and body for your holiday style. Just try a few turns here and there for a natural looking style that gives you the fullness you need.
The half-up. Half-up styles are a gorgeous way to show off your long hair while adding a festive spin on your style. Use braids, twists, and stylized ponytails (like a bubble ponytail with several bubble-like sections separated by hair ties) to give you that perfect holiday look. Half-up styles are huge this season, especially as we all wear face masks when out and about. They keep hair off your face but let you show off that length with pride. 
For mid-length hair:
Tight, frizz-free curls. Showing off your natural texture is a great way to be festive this holiday season, but you'll want those tight curls to look well defined. Start with a 3-in-1 curl conditioner from Bumble and Bumble® and you'll be on your way to soft, gorgeous curls for the holidays!
Wet waves. That vintage Hollywood look with smooth, chic waves looks great for the holidays. While it may seem like a complicated style, you can make it happen with a little help from some Oribe® Curl Shaping Mousse. It helps to get this style done in our salon first so you can replicate it more easily at home, and our professional stylists can help customize it for you for the perfect holiday look.
Messy ponytail. For a half-up look for your mid-length hair, try a messy ponytail style with tendrils flowing for a fun, romantic look. Add a few curls at the ends and you have a gorgeous holiday style that looks great with every outfit.
For short hair:
Smooth, chic bob. The bob is a super customizable hairstyle for short hair, usually reaching about chin length. For holiday shimmer, use a flat iron styler to make things perfectly smooth and add a little shine with Oribe® Flash Form Finishing Spray Wax for a shimmering holiday style!
Messy pixie. The best part of a pixie style is how easy it is to care for. It's important to get the perfect cut with lots of layers, then you can work with it easily at home for great holiday looks. Accessorizing is the key to make it look great with any outfit – just add clips, ribbons, and headbands in colors that match the look you love! If you're ready for a super short haircut with no fuss, ask our professional stylists to give you the perfect layered pixie cut.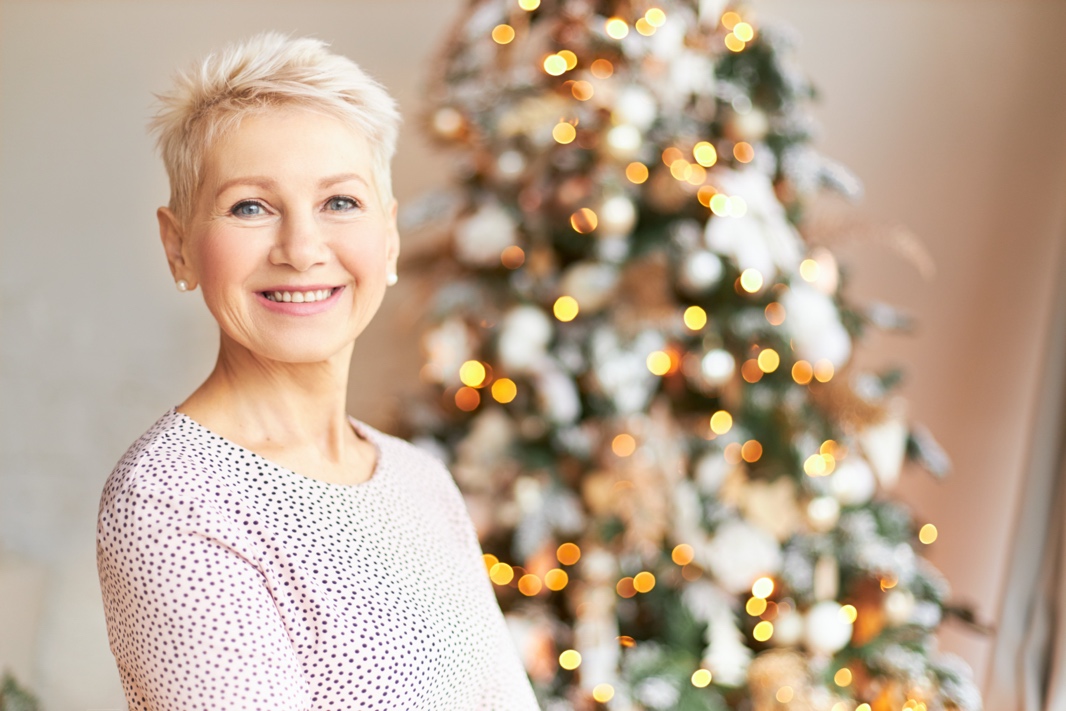 Extensions. Love short hair but want something different for the holidays? Extensions can help you get any look you want, instantly! Get those long, beachy waves or fancy half-up styles with natural looking extensions that move seamlessly with your own hair. You can add length, color, texture, and volume and fully customize it to perfectly match the look you want. Just ask your Salon Red stylist to help decide which extensions are right for you and the style you're looking for. 
Ready to get a fun holiday look? It all starts with the perfect haircut in the salon so you can replicate it at home. Make an appointment today at Salon Red and our expert stylists will give you just the right cut for the style you want, or you can get that dramatic blow dry style or sophisticated updo without the hassle by letting us do it for you! Book an appointment today at any of our Atlanta locations: our Brookhaven location - 804 Town Blvd, Suite 1045, 404-373-2003 or our Candler Park location - 1642 Dekalb Ave, 404-373-2868. We can't wait to see you here!