Balayage for Brunettes – Highlight Colors You'll Love in 2022
03.01.2022
---
One of the best looks for brunettes this year is a rich, high-dimensional color. The best way to get it is with balayage, the hand-painted technique that makes every hair color a work of art. At Salon Red, our pro colorists are experts and making your hair color look and feel incredible.
What is balayage?
Balayage has been trending for several seasons, but there is still a lot of confusion about exactly what it is. It's easy to confuse balayage with a hair color style, but in fact, it's a hair coloring technique that gets you the gorgeous color you want. 
The traditional method for creating highlights is by using foils, which individually wrap small sections of hair to separate them from the ones that will stick with the base color. When finished, the look is great, but it's organized and symmetrical, so it doesn't look natural.
Balayage takes advantage of your Salon Red colorist's expert skill and artistic talent because each strand that's colored is hand-painted using a strategic method of placement that gets just the right, natural look. 
What colors look great for balayage for brunettes?
If you love brown hair, you have lots of choices when it comes to highlighting colors:
Caramel mocha. This blend with a rich, dark chocolate base looks incredible with warm caramel highlights. When done with a balayage technique, the color looks natural, like sun-kissed strands against a deep, dark base. 
Touch of blonde. A shade of warm honey blonde looks incredible with brunette hair, especially if your natural color is a medium brown. The warm blonde shade is just enough to add incredible light and dimension. 
Mixed highlights. You can get an even more incredible look when you mix shade, like blonde and caramel, against just about any shade of brunette base. It'll give you an incredible shimmer with the look of added volume and dimension. 
Brown with brown. One great look for brunettes is a double-shot of color that uses two different shades of brown, such as a dark brown base with a medium brown highlight color. This gives your hair a rich, dimensional look that reflects light well. 
Icy blonde highlights. Often, brunettes opt for a warm color like honey or caramel when choosing a highlight color. But if you love cool colors, go with a cool blonde shade like icy blonde for a unique look for your personal style. 
Gold. If you like a lighter look, go with a golden shade to reflect the sunshine. This color lightens up your brunette so that it leans toward bronde, with great dimension and highlights for pretty spring color.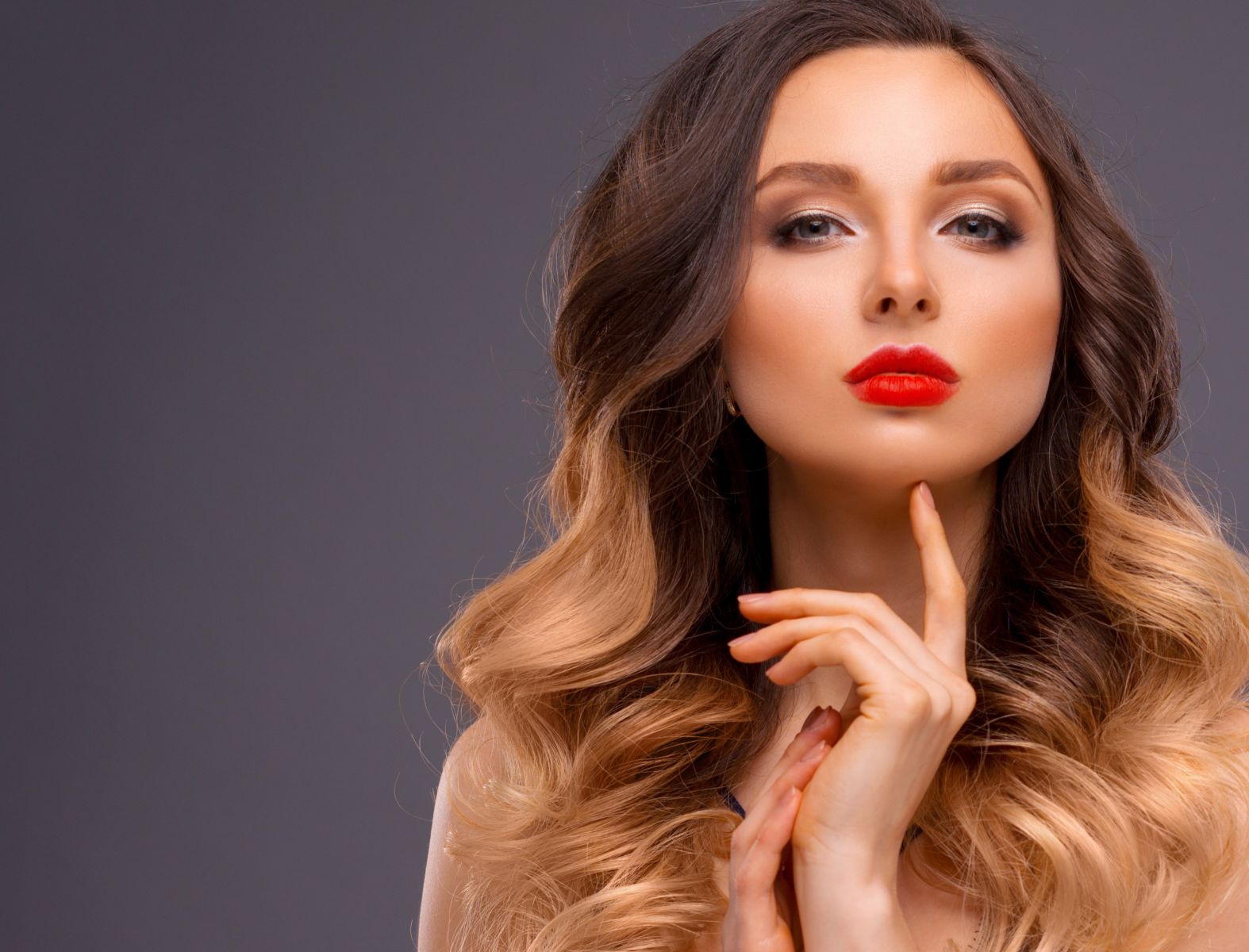 Vibrant red. If you love a bold look, vibrant red highlights against a deep, dark brown make for an incredible color. If you want it more natural-looking, choose a copper highlight for a brighter look with a hint of color. For a bold, rich look, choose a vibrant fantasy red color in hand-painted highlights. 
Brilliant blue. If you have deep, dark chocolate or jet-black base, consider blue as your balayage highlight color. the great thing about this color choice is that when you go with a balayage highlight, you can choose a super-subtle look that's barely there or add more of the blue shade for a brilliant, bold look. 
How long do balayage highlights last?
Like all highlights, the color lasts for several weeks before your hair starts to grow out. What's amazing about balayage is that since it's hand-painted and unique with a natural look, it tends to grow out well so that you can go longer without touch-ups. 
When using foils, the symmetrical look starts to fade as your hair grows out because these highlights are done in larger chunks. That's why balayage highlights are a great choice for great color that lasts. 
How do I care for balayage highlights?
Your Salon Red colorist will give you all the information you need to keep your color looking gorgeous and vibrant in between salon visits. That includes using only professional products when shampooing, conditioning, and styling your hair. Your Salon Red stylist will give you a personalized haircare prescription with the specific products that will help your color last by trusted salon brands like Bumble & Bumble®, Aveda®, Wella®, and Oribe®.
Get the rich, dimensional color you want with a little help from the experts at Salon Red. Make an appointment today and we'll help you find just the right balayage color for your personal style! You can book your hair color appointment today at any of our Atlanta locations: our Brookhaven location - 804 Town Blvd, Suite 1045, 404-373-2003, or our Candler Park location - 1642 Dekalb Ave, 404-373-2868. Need one-on-one stylist or colorist advice before choosing your new balayage color? Schedule a virtual consultation with your favorite Salon Red stylist today. We can't wait to see you here!